Since the beginning, food has been at the heart of the Santa Cruz Beach Boardwalk. Many remember the savory and sweet aromas of turnover pies sold from 1917-1968, or have tried the beloved corndogs that have been enjoyed since opening day. Today, the Boardwalk's culinary team makes it their mission to elevate the traditional theme park dining experience by serving a diverse variety of delectable treats that match anyone's palate—fueling guests up so they are ready to enjoy a day of rides and fun. Check out my round-up of healthy and unique California-style dining options that you might not realize can be found at the 'walk.
For the Fruit Fan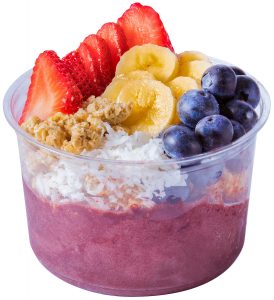 Right next to the Boardwalk's Main Entrance and Speed Bumps lives Cruzin' Crêpes, Santa Cruz's premiere destination for boba tea, made-to-order-crêpes and deliciously fruity Acai Bowls. The Acai Bowls in particular are the perfect refreshing and healthy choice on hot summer days—a frozen smoothie bowl topped with strawberries, blueberries, bananas, coconut shavings, granola and honey, best enjoyed with a view of the sparkling Pacific Ocean. Gluten-free crêpes are also available, just ask! If you prefer your smoothies in a cup, Blenders at the Beach (across from the Haunted Castle) is home to a variety of fresh fruit smoothies. Smoothie flavors range from Berry-Go-Round (berry, banana and strawberry) to Surfin' Mango (mango, pineapple and passion fruit) and much more. Even more deliciously fruity options can be found at Cave Train Treats, located near—you guessed it—the Cave Train. Here you can treat yourself to fresh fruit spears or a real coconut opened just for you. Why does fruit always taste better when you eat it at the beach?
For the Veggie Lover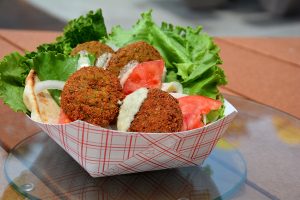 If veggies are more your style, Corn Roaster (across from Fireball) is a must-try. As the name suggests, you can grab fresh roasted corn on the cob that can be topped with all your favorite condiments. Parmesan cheese, lemon juice, hot sauce and cayenne pepper are just a few of the toppings you can use to customize your perfect ear of corn. Speaking of veggies, if meat isn't really your thing but you still want to try a tasty Boardwalk burger, take a stroll over to Dipper Diner (near the Giant Dipper entrance). Here you can order any burger with a Beyond Meat ® plant-based patty, and even opt for a gluten-free bun if desired. At World Grill & Beer Garden (between Entrance 3 and 4) lives another vegetarian favorite, veggie falafel topped with tomato, onion, lettuce and tahini sauce (because everything tastes better with tahini sauce) all wrapped up in a pita bread. If you have a sweet tooth, add fresh sliced caramel apple chips to your World Grill order. You won't regret it!
If you like the Classics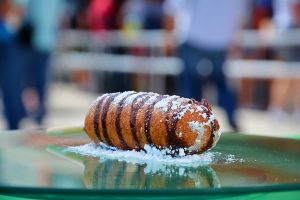 It's no secret that fried foods are a staple of theme parks, county fairs and boardwalks alike. What can I say, something simply magical happens when hot oil meets pastry. Located next to the Rock & Roll ride, Deep-Fried Twinkies is your one-stop shop for all things fried. And don't be deceived, Twinkies aren't the only fried delicacy you can try. Gooey, sweet, deep-fried Oreos ® are a favorite amongst chocolate-lovers, and a deep-fried Smucker's ® Uncrustable ® peanut butter and jelly sandwich is not to be missed.
For the Sweet Tooth
It's nearly impossible to mention desserts without spotlighting a fan favorite, Marini's at the Beach (so loved that there's three locations, on the Colonnade next to the Casino Arcade, across from Looff Carousel and next to Sea Swings). You probably know Marini's for their famous saltwater taffy, but for me it's not a trip to the Boardwalk without their chocolate-covered bacon.
The perfect combination of salty, sweet and savory, chocolate-covered bacon is an unexpected delicacy that you need to try at least once in your life. But trust me, once won't be enough!
If you can Handle the Heat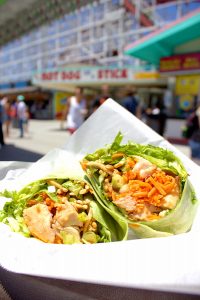 Calling all spicy food aficionados! Make sure to schedule in a stop at Beachside Snacks (across from Looff Carousel) to try some freshly popped popcorn mixed with cheddar and flamin' Cheetos pieces. This unique and mouth-watering popcorn is popped fresh throughout the day, along with their classic buttered popcorn and kettle popcorn counterparts also available at Beachside Snacks. And the best part? You can upgrade to free refills, so your popcorn bucket will never go empty! Plus you can grab your favorite ICEE flavor to cool yourself down after all that spice. And last, but certainly not least, those who can handle the heat will fall in love with the spicy Thai peanut wraps at BoardWok near entrance 5. These wraps are perfect to much on while you're on the go, and with so much to see and do at the Boardwalk, that's always a plus!
If you're headed to the Boardwalk, there's no question that you're in for a treat. With so many options, the hardest part of your trip might just be choosing which food to try! I recommend coming with an empty stomach to make room for everything on your must-eat list, but a busy day of games, rides, laughter and beach fun is sure to open your appetite. Visit the official Santa Cruz Beach Boardwalk website to learn more about all food locations, and keep an eye on the events page for seasonal and themed treats throughout the year.
'till next time –
Emily I.