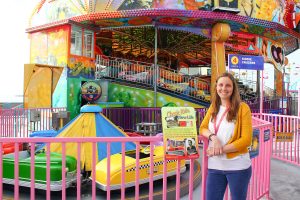 In celebration of American Archives Month, earlier this month we asked people to submit their questions about Boardwalk history on our social media channels. As company archivist, I've been answering those questions on Facebook, Instagram and Twitter and today I'm guest blogging to answer a few more questions that deserve a longer explanation.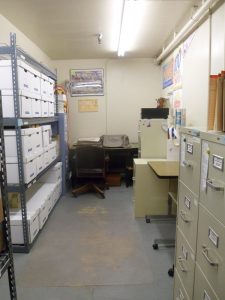 What IS an archive?
At the Boardwalk we treasure and value our history and love to share that history with our employees and guests. In order to do that, Santa Cruz Seaside Company management established the Boardwalk Archives. The purpose of the archives is to maintain records of enduring value.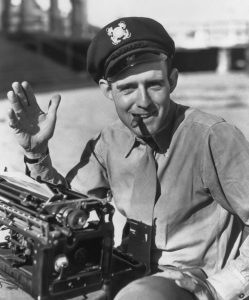 Our archives have their own long history. In 1926 a man named Warren "Skip" Littlefield began working for the Seaside Company as a lifeguard. A Stanford graduate, Skip had a love of history and began documenting and collecting all things related to the Boardwalk and beach area. During his 60+ year career at the Boardwalk he developed an impressive collection. After his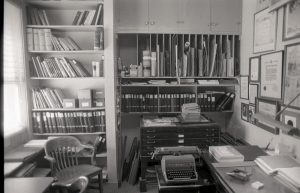 death the Seaside Company dedicated resources to maintaining and adding to what Skip began and in 2014 I was hired as the first professionally trained archivist. It is my job to ensure that the past and the present are documented and available to future generations. (Skip's desk and typewriter, photograhped here, are part of our collection.)
How did you become an Archivist?
I've always loved history and graduated with a BA in History of Art and Visual Culture from UC Santa Cruz. From there I went to the School of Information at San Jose State and received my Masters in Library and Information Science. During my time in that program I discovered the world of archives and realized that was the career path for me. It allowed me to combine several of my passions and strengths: history, organization and helping people. When the archivist job became available at the Boardwalk, I jumped at the chance to put my skills to use in a fun and rewarding setting. I've been loving it ever since.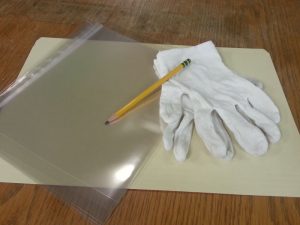 An archivist collects, organizes, preserves and makes records of historical significance available. In my case, I'm in charge of all documents, photographs, and objects that relate to the history of the Boardwalk and the Santa Cruz Seaside Company.
Some of my day-to-day tasks:
Organize and preserve physical collections (e.g. paper documents, photographic prints, ride parts, etc.) so that they are easy to access and will last another 100+ years
Answer questions from employees and external researchers and guests about our history
Digitize materials in our collection and catalog them in a database system
Help produce the Never a Dull Moment Blog and provide historical images for social media
Curate small exhibits for employees
Assist with special history-focused tours of the Boardwalk
Conduct oral history interviews with long-time Seaside Company employees
Try to uncover and fit together all of the puzzle pieces that make up the history of the Boardwalk
What is the most unique item in your collection?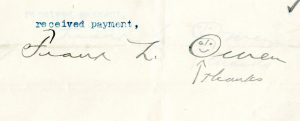 A couple of you asked about the most unique item in the collection and the most unusual thing I've learned about Boardwalk history. Every day I work with our collections and come across interesting pieces and stories so it's hard to choose just one. I am drawn to the simple and sometimes over-looked handwritten documents from the early days of the Boardwalk. I love to imagine the people who were here in 1907 when the second Casino was constructed and in 1915 when the Seaside Company was formed and what it must have been like. I love this 1916 business invoice where the notary turned the "O" in his name into a smiling stick figure.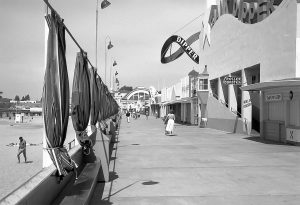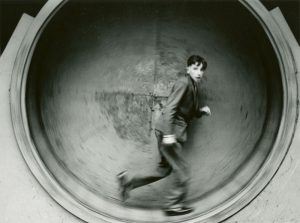 I also love the casual snapshots of the Boardwalk, like this one in front of the Giant Dipper likely taken by former Seaside Company President Laurence Canfield, or this one he took while on a research trip to Blackpool in England, of a park guest enjoying the rotating barrel. I like to imagine his thought process behind how he operated the business and made it a successful and enduring enterprise.
What's the most unusual thing you've learned about Boardwalk history?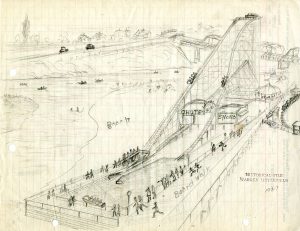 I was very intrigued by the Chute the Chutes ride that was erected in the river in 1928. It is amazing that this structure, taller than the Giant Dipper, carried people up in boats then released them down the chute into the river!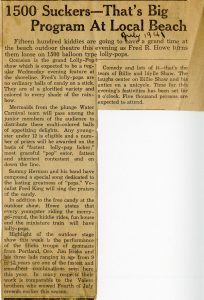 Also, some of the events and promotions that have occurred at the Boardwalk have struck me as unusual, for instance: All Day Sucker Day in 1941, or an advertisement featuring a shipwrecked boat bonfire promoted to light up the whole waterfront in 1948, and of course, the unique Plunge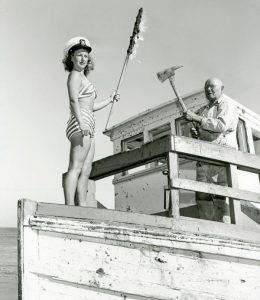 Water Carnivals. I will forever be impressed by the stories of the young kids who performed daring acrobatic feats above the Plunge pool. I was thrilled to be able to interview former Plunge performer Fred Quadros in 2016, as part of our oral history program. Here he is in 1941 performing a trapeze act with fellow Water Carnival star, Shirley Wightman.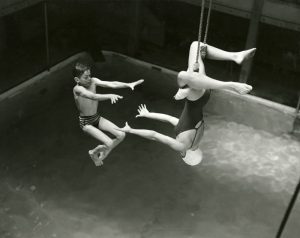 Thanks for the great questions and I hope you've enjoyed this look into the Boardwalk Archives!