Every year families travel from near and far to create picturesque memories at the historic Santa Cruz Beach Boardwalk. Return visitors typically have a handful of favorite rides and snacks they simply can't miss—like the Giant Dipper or our famous funnel cake —while first-timers are eager to explore anything and everything the park has to offer. As the Boardwalk continues to grow with exciting new offerings every season, it can feel more important than ever to find strategic ways to make sure every must-do on your list is checked off. Read on to learn 5 Boardwalk Pro Tips that will certainly maximize your experience and ensure there's never a dull moment on your next visit.
1. Buy Online for the Biggest Savings
Did you know you can get the best deals on Ride Wristbands and Season Passes when you buy online? If you have an idea of what day you're planning to visit the Boardwalk, save up to $10 on your Ride Wristband or Season Pass by purchasing online in advance. And if you really want the secret to the biggest savings during the Spring and Summer, buy your wristband for a weekday and get up to $30 in savings per Ride Wristband. Visit beachboardwalk.com/tickets to buy your Ride Wristband, Season Pass, and other exciting offers like MyBoardwalk Cards (where you store points for attractions, individual rides, and all games) and MyBoardwalk Digital Photo Passes!
2. Visit the arcades or the Boardwalk Bowl before rides open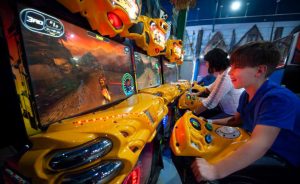 While Boardwalk rides typically open in the late morning or early afternoon, many guests might not realize that ticket booths open their windows at 9am. Score the best parking spot, skip the mid-day ticket booth lines and grab your Ride Wristband early, then play a round of bowling (or two!) at the Boardwalk Bowl, which also opens at 9am. If attractions and arcade games are more your speed, you're in luck because our Casino Arcade, Neptune's Kingdom, and Buccaneer Bay Mini Golf generally open daily at 10am and are another fun option to start your day at the Boardwalk. Bonus—when you get your Ride Wristbands early, you can usually be one of the first in line for your favorite rides!
3. Stay up-to-date on the latest events and deals by joining the Big Kahuna Club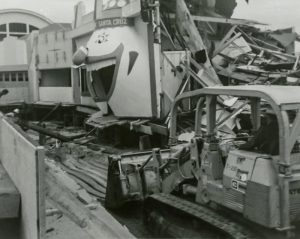 On the first of every month the Boardwalk sends out our Big Kahuna Club Newsletter, a monthly round-up of the park's latest discounts, special events, and insider news. Subscribing to this digital newsletter gives you the perfect reminder to check out our upcoming movie screenings at the beach (Like our upcoming screening of The Lost Boys), special holiday events, and so much more, so that you can add them to your calendar ASAP. Plus, from now until the end of 2022, new Big Kahuna Club members are automatically registered to enter a special giveaway for complimentary tickets and packages to upcoming Boardwalk events. So what are you waiting for? Become a Big Kahuna Club member today!
4. Invest in a refillable Boardwalk Beach Bottle for discounted refills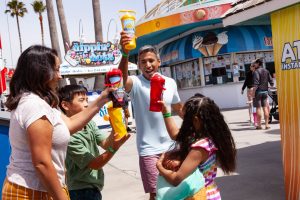 If you're planning to visit the Boardwalk more than once each year, you may want to invest in your very own refillable Boardwalk beach bottle. Not only do you get one free Coca-Cola fountain refill after your initial purchase, but any refill afterward for the whole season is just 99 cents. Purchase your very own beach bottle in the park at any location Coca-Cola fountain beverages are sold, or online with the purchase of a Ride Wristband or Season Pass.
5. Ride the most popular rides first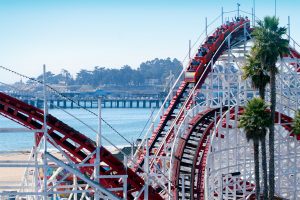 It's no secret that the park's most beloved rides are on everyone's to-do list on a trip to the Boardwalk. The Giant Dipper and Undertow rollercoasters are amongst some of the park's most popular (and for good reason!), so we recommend riding them right when rides open for an extra-short line. By making these rides your top priority, you'll be left with a bunch of extra time to hop on your other favorite rides and explore the rest of the park. Be sure to visit the Boardwalk's hours page to see exactly what time rides open during your visit, and plan accordingly (Don't forget to account for time to park and buy your Ride Wristband if you haven't already!).