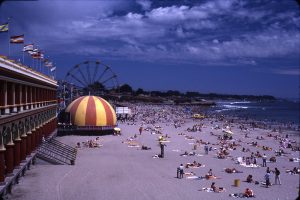 In the summer of 1981, a concessionaire operated an inflatable "Laserama" on the sand. During the 1982 summer season, guests could enjoy the "Laser Theater" on the Boardwalk. An inflatable dome, situated where the Pirate Ship is today, was filled daily with air and a light show was projected onto the interior top of the dome. 150 bean bags enabled guests to lay back and watch the 15-minute refracted display that was pretty cool for its time. The show was choreographed to the music of Pink Floyd, Styx and Queen and ended, to the delight of the guests, with the William Tell Overture. Due to marginal guest patronage, the attraction only lasted a few seasons.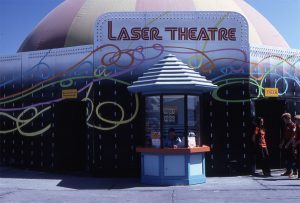 Still intrigued by new laser technology, Boardwalk staff experimented with projecting a laser light show onto a makeshift screen hung from the Giant Dipper's lift hill. Unfortunately this did not offer enough pizazz to be worthy of a nightly special attraction, and was not pursued. Instead, focus was re-directed to the Boardwalk's bandstand for a weeknight special attraction. This gave birth to Free Friday Night Bands on the Beach concerts, which have been very popular with Boardwalk guests since 1988!
Forbes Magazine once included the Boardwalk's Friday Night concerts on their list of "World's Best Free Stuff." What's your favorite band to grace the Boardwalk stage?