In the very early years, many of the Boardwalk's food, game, and photo operations were run by concessionaires who were significant practitioners of fun. These Santa Cruz Beach Company leasees displayed a lot of ingenuity and they developed our signature rides too!
Scenic Railway builder L. A. Thompson established his huge beachfront attraction in 1908. He never finished the scenery aspect of his ride, because his beachfront location had a naturally splendid backdrop of its own. Charles Looff, an acclaimed east-coast merry-go-round manufacturer, delivered our Carousel in 1911. His concessionaire son, Arthur, built the Giant Dipper in 1924, replacing the slower-paced Scenic Railway. Over time, and one-by-one, ownership of these rides moved to the Seaside Company.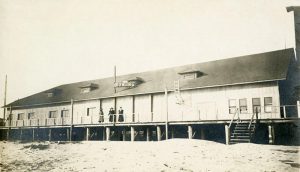 In 1908, the Beach Company erected a large building where today's Haunted Castle building stands. Uses for that location changed over the years, but a 4-lane bowling alley occupied the bulk of the area into the early 1930s when our first dark ride was established.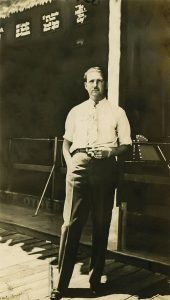 This dark ride was also the product of concessionaire ingenuity. Ed "Doc" Reicher hailed from the shadow of Coney Island, New York. As a testimonial to his entrepreneurial spirit, he prided himself on owning and operating a game concession there when he was just 15 years old.
Boardwalk archives reveal Ed showed up here at the Boardwalk in 1921. In his letters to Boardwalk general managers in the 1970s and 1990s, he revealed himself as a very personable individual with fond memories of the relationships he enjoyed with Boardwalk managers in the 1920s and 1930s.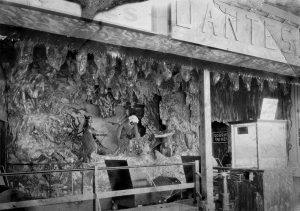 We don't know how Reicher got his foot in the door, but in 1931 those bowling lanes became our first dark ride—designed, built and operated by Ed Reicher. His initial venture into the scary side of Boardwalk experiences originated in 1932 with the opening of "Dante's Inferno – A Trip to Hades." His six hand-built cars conveyed adventurous guests through a maze of home-built sets and "gotchas." Two years later, he re-themed his dark ride as "Laff Land" and maniacal clowns delightfully spooked young teens, so much so, that archival records show Reicher's dark ride sometimes out-grossed our iconic Giant Dipper!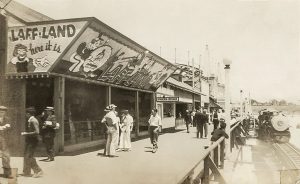 It is recorded that Seaside Company President James Williamson often probed Reicher's thinking to learn his secrets to success. Reicher may have said too much, the Seaside Company took over his dark ride in 1935.
In succeeding decades, the Seaside Company re-themed that dark space into the likes of "Treasure Island," "Pirate's Cove," "Haunted House," and in 1973 the "Haunted Castle." The attraction had the character of a "funky dark ride" like most all traditional amusement parks of that era. Back then you could black out a large enough space, add the gags behind vandal reducing chicken-wire, combine tricky lighting and sound, and you were good to go for a dark ride experience. In-house creative staffers made mostly home-built gags and the conveyances to ride in. Periodic re-theming bolstered the public's interest as ridership waned.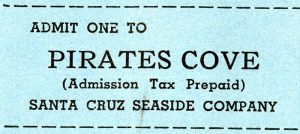 By the 1970s, visitors had come to expect more sophisticated dark ride experiences. Ride technology had emerged that supported more innovative thrills and effects. At the end of that decade, Boardwalk management made another and more substantial attempt to renovate the Haunted Castle attraction. Maintenance staff cleared out the ride's old layout to make it ready for the installation of considerable enhancements.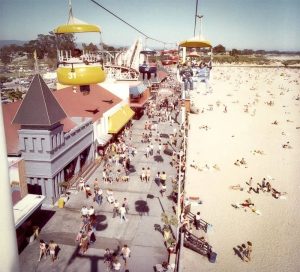 In 1979, local Maurice Ayers was contracted to use his creative skills to re-theme the castle. Ayers had been developing amusement park rides since 1956, he built the animation for Knott's Berry Farm's flume and gold mine rides and choreographed ride theming at many other amusement parks. Before that, he was active in the motion picture industry creating special effects for films, even winning an Oscar for technical achievement. Ayers studied the maturing sophistication of amusement park audiences. He brought gags to his dark rides that were light, funny and scary, but fast and short. Confusing and entertaining his riders was the way he garnered repeat ridership. Thrill-seekers had to ride again to see what they missed on their first incursion into its dark reaches.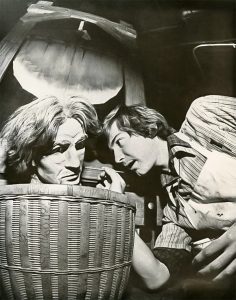 His contract with the Boardwalk specified a refurbished Haunted House ride that would include–among other notable gags–a rotating drum illusion and overhead bats, a guillotine and executioner, an animated cannon, a moving bus with characters, and an ape face breaking through rubber bars. Working in accord with Ayers, Seaside Company staff readied the dark space, performed all background blacklight scene painting, provided all mechanical, electrical and sound equipment, and equipped "one electric pencil sharpener for Ayer's design office." The ride's design was apparently an evolving affair all the way up to opening day in March 1980.
Ayers gave particular emphasis to the mechanism of scenic movements. He added more robust machinery to ensure problem-free and uninterrupted movement of the effects and gags.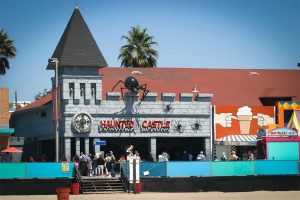 Boardwalk maintenance and technical staff massaged the ride during the next twenty years. The major exterior addition during that time was an 18-ft black spider that dangled over the side of the building's rooftop. They also added a new signature sign for the building front and a comical moving clock fixture on its tower. They modified "gotcha gags" on the interior while a few extra props were periodically added. They injected ways to decrease and reduce vandalism inside the ride. Did you know there was an overhead catwalk in that ride, where an operator could spot bad rider behavior?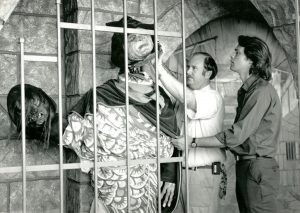 In 2006, Boardwalk managers began planning for an extremely significant overhaul of the ride, one that would once again embody the latest dark ride technology. R&R Creative Amusement Design of Anaheim, CA provided creative direction. A brand new storyline afforded guests with a coherent and consecutive glide through an intricate castle motif with its eerie sights and noises. A few old pop-up figures were recycled from the previous ride.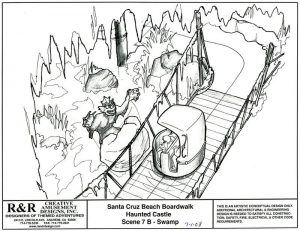 We designed the ride to appeal to a broader age range. The I.E. Park Company of Italy constructed new double-seat cars, capable of rotating. It was no small feat for that distant company to manufacture the multi-level trackage. Riders now entered backward down a spiral descent into a darkened 10,000-square foot basement, a space two-thirds larger than its predecessor. Sally Corporation of Jacksonville, FL took responsibility for all animatronic figures. Duncan Design Inc. of Santa Rosa, CA developed the sets for the castle, swamp and graveyard spaces. The ride's swivel cars concentrated rider attention to specific segments where embellished thematic components were concentrated. A guillotine effect atop the ride's ascent to the unloading station summoned survivors to come again, if they successfully evaded this contraption.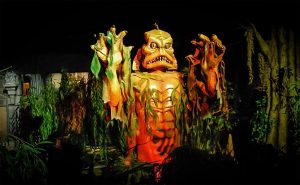 In this more family-friendly ride, only "acceptable gore" was allowed and interspersed among its chills, eerie atmosphere and laughs. There was no blood to be found! Interestingly, many riders that opening summer told us the ride was not "scary" enough. Technical staffers have since turned up the "startle" and the "gotcha" effects a notch here and there.
We introduced our new, $2 million dollar ride as part of a new $9 million, multi-use building. The Haunted Castle ride opened in early June 2010, 80-years after the debut of the Boardwalk's first dark experience at that same location.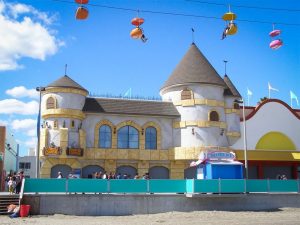 This Haunted Castle ride entices Boardwalk guests into its dark reaches to this day. Maintenance and technical staff are steadfast in their efforts to superintend and enhance the ride experience.
If you have not ventured into the Haunted Castle's bowels in a while, you can do so again the next time you visit.
Please share your thoughts and experience of the ride in the comments.
'till next time –
Ted