Have you ever wondered what it might be like to live or work in another country? For more than three decades, the Boardwalk's Work & Travel program has offered the unique experience for college students around the world to live and work in Santa Cruz during the Boardwalk's busy season. Students hoping to spend their summer in sunny Santa Cruz apply and interview for jobs at the Boardwalk, spanning across all guest-facing roles, from Rides, to Foodservice, to Guest Services. These students augment our robust local hiring efforts and provide a unique cultural experience for our employees.
Julie Dickson, the Boardwalk's Talent Acquisition Specialist, runs the Work & Travel program, where she interviews and hires participants and collaborates directly with the agencies that help make the program possible. Julie arranges local housing for program participants, and is the students' main contact and support person in Santa Cruz.
"I always look for smiles, positive attitudes, and overall enthusiasm," says Julie as she describes the hiring process. "Work experience is not always necessary, and for some [participants] working at the Boardwalk is their very first job."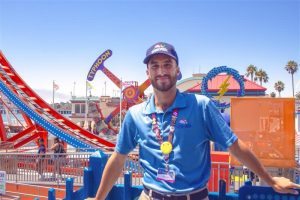 In 2023, Ignacio "Nacho" Perez Sanchez, 21, traveled from Barcelona, Spain for his second year in the Work & Travel program. This year, Nacho decided to take on the challenge of Lead Ride Operator—a promotion from last year's role as a Ride Operator.
"A typical day [at the Boardwalk] is amazing," shares Nacho. "I am always looking for new experiences, to meet new people, and to improve my English. That's why I came back, because this was one of the best experiences I ever had."
Nacho always finds himself busy in his role, whether he's doing a training, checking on rides or supporting his coworkers. In his downtime, he's just like any other young staff member at the Boardwalk and enjoys exploring the local area, recalling a visit to San Francisco with friends he made in the program.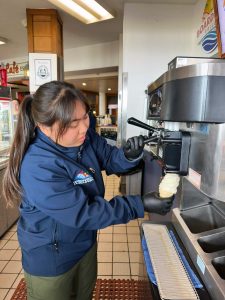 Jing Wei Lee from Malaysia was another excited face at the Boardwalk this summer, eager to be part of the Boardwalk's Foodservice department. Jing Wei typically worked at a pretzel cart, where she started her day checking inventory, preparing food items, and ensuring that the cart is clean and organized.
"My day revolves around interacting with customers and serving their favorite treats," Jing Wei shares. "I warmly greet each customer, take their orders, and offer suggestions if they're unsure about what to try."
Just like Nacho, some of Jing Wei's favorite memories of Work & Travel are exploring California with friends. During a favorite trip, she and friends rented a car for a road trip to Big Sur and Monterey. She explains:
"This program [has allowed me] to connect with people from various backgrounds, forming friendships that can last a lifetime. It's a platform to expand my horizons, enhance my communication skills, and build an international network. In essence, this program perfectly aligns with my desire for adventure, personal development, and exploring different cultures."
A perfect fit for the Boardwalk, Jing Wei is a lover of amusement park rides. In her free time, she makes sure to take advantage of her access to free Boardwalk rides—a perk offered to all staff members. She shares, "It's like a dream come true for me! Being able to experience all the exhilarating rides whenever I want is an incredible perk. The thrill of going on the rides, feeling the adrenaline rush."
Participants travel from more than 30 countries around the world to participate in the Boardwalk's Work & Travel program, which employed 251 international students in spring and summer of 2023. Julie explains that Work & Travel participants are fundamental to bringing the Boardwalk experience to life, and will always be part of the Boardwalk family.
"We are privileged to have them and are grateful for all their hard work. Getting to know these participants is a gift, saying goodbye at the end of each season is always so difficult. Thankfully, we have several participants return for a second, third or even fourth season! "