We received more comments about our iconic Wild Mouse coaster than any other subject I've covered so far. So I feel obliged to write a postscript to Wild Times Building the Wild Mouse and The Legacy of the Wild Mouse Lives On!
Amazingly, people who rode our "Mouse" still remember its emotional impact 45-years after it was dismantled. Here's are just a few of their many comments: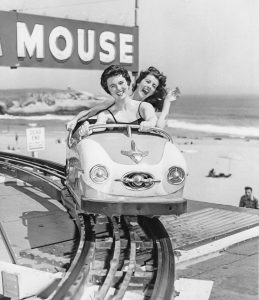 "To this day no other ride comes close. The feeling you had that you knew for sure you were gonna fly off that edge."
"I think about the Wild Mouse probably once a year, and how much fun that was."
"My grandpa screamed non-stop when I conned him into riding it with me!!… Scarrrrrry little mousies!!! But soooooo much fun!!"
"Loved watching peoples' faces on their first ride."
Many more guest sentiments have been expressed by email and on the Boardwalk's Facebook page. But one comment – "Bring back the Wild Mouse!" – made me dig back into our archives, again.
You see, we did try to bring back the Wild Mouse, although unsuccessfully.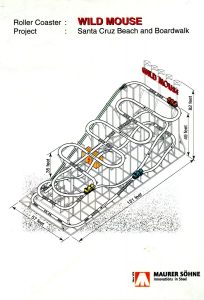 As early as 1998, Boardwalk management began to investigate a return of a new version of the Wild Mouse. I think I can safely say that the "mouse that roared" for eighteen seasons on the Boardwalk would not pass new industry safety standards. I don't mean that our ride was unsafe then, but criteria in the amusement industry in the late 1990s prohibited replicating the exact thrill of our Mouse. The new generation of Wild Mouse rides employed the late 1950s transformation in steel roller coaster design, when tubular track and iron supporting infrastructure came in vogue.
Although we signed a contract in 1998 with a ride manufacturer, insufficient progress caused it to be canceled soon after. Then in 2000, we doubled-down and tried again and entered into another contract to acquire a new steel Wild Mouse built by Mauer Sohne of Munich, Germany. The ride was huge by Boardwalk standards: 131-feet long; 57-feet wide; and 49-feet high, if you don't account for an illuminated sign on top of the ride.
The ride was designed to offer around 1,000 passengers per hour the fun of sharp turns, quick drops, and a surprising amount of airtime. Rated as a family coaster, 8 colorful cars carrying 4 passengers each would travel the classic zig-zagging inherent to this breed of Mouse, achieving a maximum speed of 28-mph. Our contract targeted delivery of the ride for October 2001, so it could open for the Boardwalk's 2002 summer season.
If you think the Boardwalk can acquire and install a ride of this scope without serious collaboration with city and state permitting processes, think again! Between 2000 and 2001, we worked fastidiously with city staff to find the right location for the ride, one that met both community and Boardwalk objectives. This effort boiled down to only two spaces that might work within the Boardwalk's narrow footprint, and each came with unique hurdles to overcome.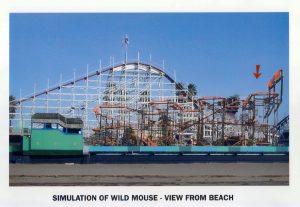 Alas, we could not resolve the complications. The ride's footprint was just too big for the limited space we had. On May 3, 2001, we officially conceded to dropping the project, and canceled our contract with the manufacturer.
So, to the Boardwalk's dedicated class of historic "mousekeriders," all I can say is, "We tried!"
If anyone has more to share about their experience of riding our Wild Mouse, do let us know.
'till next time –
Ted