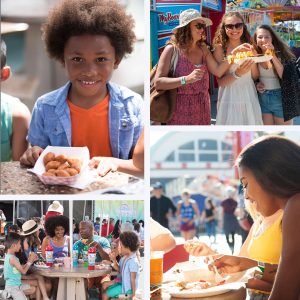 A trip to the Boardwalk just isn't complete without a fresh Texas donut or a turkey leg the size of your head. With over 42 restaurants across the park operated by concessionaires and the Boardwalk, frontline food staff work hard to keep millions of hungry guests full and satisfied year after year. In an effort to support their co-workers during a busy time of year and learn how the Boardwalk's Foodservice Department makes their magic, blog contributors, Jessie and Emily, covered a behind-the-counter shift at two of the park's most popular restaurants. Read on as they pull back the curtain and discover what a day in the life of Foodservice at the Boardwalk really looks like.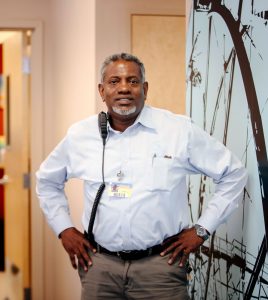 For this spring and summer about 260 seasonal employees were hired to staff the Foodservice department in addition to the 30 year-round employees. In the grand scheme of Boardwalk history, the Foodservice Department is relatively young. In 1980 the department was established and took over operation of two locations—they went through various name changes over the years, but those locations are now known as Beachside BBQ and Dipper Burgers. Today the Department is led by our Director of Foodservice, Everard Simonpillai, "I have a true passion for the food industry and creating memorable experiences for guests at the Boardwalk. Working in the food service industry can indeed be challenging, but the satisfaction of serving and bringing joy to thousands of people makes it all worthwhile."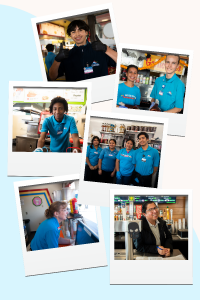 Working with Everard is a dedicated team of managers, supervisors, leads, and front line staff who take great pride in the quality and variety of food selections the Boardwalk offers and the level of guest service the team provides. As Everard put it, "having a supportive team that shares our goal of improving the food experience for guests is essential. I am greatly thankful to have group of managers and staff who are dedicated to creating new menu concepts and ensuring that guests have a fantastic time at the park."
To prepare for their shift, Foodservice Restaurant Manager and 22-year Boardwalk restaurant veteran, Armando Montes, showed Emily and Jessie the ropes with an intensive training session. They learned all about the different roles in the kitchen, from cooks to cashiers to runners, took a written test, and practiced skills like using a cash register, maintaining a clean workspace, reading order tickets, and answering guests' questions. Jessie and Emily ended the training session at one of the open restaurants, where they practiced the skills they learned.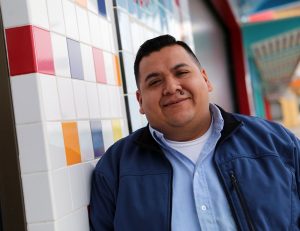 "Training is important because it ensures that we are giving our employees the right knowledge, skills, and tools to make their job more enjoyable so they can provide the best guest experience possible," explains Armando. "The most important part of training is communication, understanding responsibilities, and learning how to problem solve. We want to ensure that our training style fits the needs of each group we train."
Once trained, Emily and Jessie received their schedules for their first day behind the counter. Emily was assigned at Boardwalk Grille and Jessie was placed at Surf City Grill, two typically busy restaurants that serve a wide-range of entrée, snack, drink and dessert options.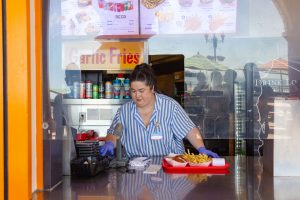 Emily started her shift in the runner role. This means that after a customer places their order, it was her job to put together all the items of their meal. In her case, this meant grabbing different types of fries, turkey legs, corn dogs and chicken tenders from their heated display cases, and communicating with the cooks when a burger, dessert or specialty order was needed. Once an order was completely put together, Emily notified the customer and gave them their meal, and answered any questions along the way. When items in the display cases ran low, she notified the cooks to ensure that they were fully stocked and ready to go so that customers could get their food as efficiently as possible.
"It took me some time to get into the rhythm of putting meals together," explained Emily. "It sounds simple, but when the restaurant gets busy I found myself constantly multi-tasking. I had to remember what items were needed for a particular order, keep track of what was running low, let the cooks know what items we were waiting on, and answer guest questions all at the same time."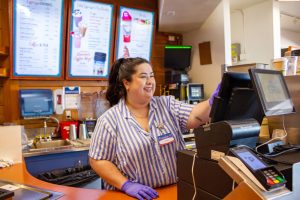 Toward the end of her shift Emily helped with the cashier role. Having worked at a cash register at a restaurant in a water park when she was younger, Emily felt a little more natural in this role. She enjoyed chatting with guests and helping them figure out what on the menu they wanted to order.
Emily shares that "People come to the Boardwalk to have fun, and as a cashier I enjoyed being part of creating that positive experience. It was really interesting to speak to all different types of guests, from locals who knew exactly what they wanted to order to vacationers from different parts of the country."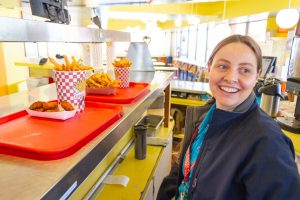 Over at Surf City Grill, Jessie happily spent her entire shift as a food runner. She arrived just before the park and restaurant opened where the restaurant staff was already hard at work setting up the restaurant for the day. When the doors opened orders came in at an easy pace giving her the chance to settle into the role and get acquainted with the various menu items. It also gave her the chance to get to know some of her coworkers and learn about their experiences working in Foodservice.
"I love being able to get to know more members of the Boardwalk team and everyone's unique story. It is amazing to hear stories like Susan Novelli's. Susan has worked at this food location off-and-on for 33 years and recalls, 'it's been quite a ride, there have been a lot of changes over the years!' Anne Strombom also works at Surf City Grill and started out as a participant in the 10-day Work and Play program in 2019 and ended up staying way beyond the 10 days; four years later, she is a supervisor at this location. The whole team was so welcoming and willing to help anyone who needed it."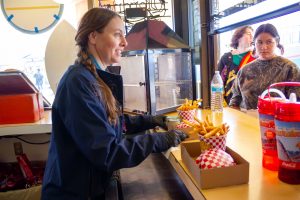 As the park got busier, the tickets came in faster and the team worked together like a well-oiled machine to get guests their orders efficiently. "It seems like when one person orders a Cajun corndog, everyone orders a Cajun corndog," Jessie recalled, "When things began to speed up it was a challenge getting multiple orders ready and engaging with guests at the pick-up window all at the same time, but the Foodservice staff makes it look so easy and always with a smile."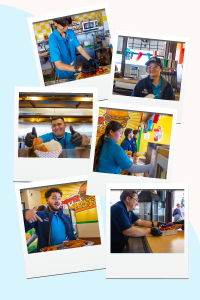 The traditional and not-so traditional food offerings at the Boardwalk are a quintessential part of the guest experience and it wouldn't be possible without the hard work and dedication of the Foodservice department. Having a chance to be a part of that team, if only for a shift or two, provided Jessie and Emily a new perspective and deeper appreciation for the important work they do. Keeping guests happy and fed is exhausting but also worthwhile and rewarding. Next time you're visiting the Boardwalk, be sure to give a shout out to the amazing Foodservice staff!