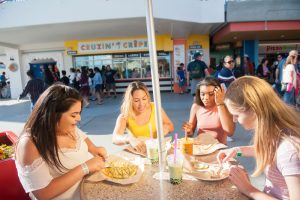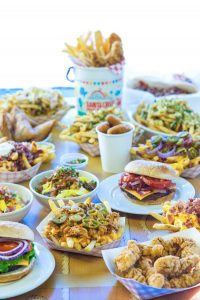 Guests enjoying food from Cruzin' Crepes one of the newest food additions to the Boardwalk
As a young man, I grew up preparing Boardwalk cuisine. Over the decades I have consumed more than my fair share of hamburgers, hot dogs, fries, corn dogs, ice cream and more. I have to say I am amazed at the improved quality of old menu standbys and, especially, the trendy and innovative items guests enjoy at Boardwalk eateries today – healthier too!
The Boardwalk's new "Bites & Brews" fest in September served to highlight some of the best of contemporary Boardwalk cuisine, matched alongside local craft beer.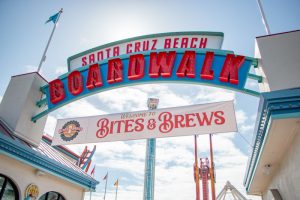 Sample food pairings included a shrimp Cajun boil, pulled pork sliders, lobster tacos, garlic fries, Thai chicken wraps, chocolate covered bacon, carne asada street tacos, pineapple Dole whip, teriyaki chicken skewers and more. Nowadays, all these tasty morsels can be found on Boardwalk restaurant menus.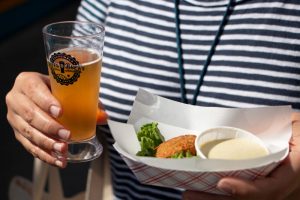 As I think about it, though, there was one food item available that stood out from the rest back-in-the-day – and it has not been replicated since. Ask most any old-timer what their favorite Boardwalk food treat was back in the '30s, '40s, '50s, and '60s and turnover pies would surely be at or near the top of the list.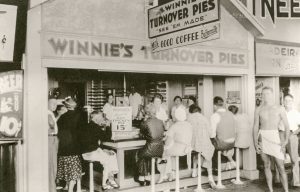 The first turnover bakers our archives reveal were Marie and then Jerry Bacon. In 1917, they sold fresh apple, huckleberry, chicken, and "Spanish meat" pies in their shop at the west end of the plunge building, on its beachfront colonnade where Cocoanut Grove Entrance C is now located.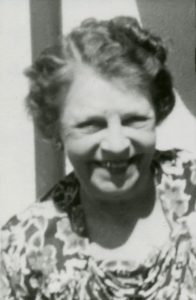 After eleven years, the concession was sold to Winnie and Ed Blaisdell – and turnover pies took off! Hot chicken pies sold for 15¢ at the time. By 1929, Winnie's Turnover Pie Shop was thriving under its new owners and did so over the next two decades until they relinquished the operation to Bill Kincannon in 1952.
A decade later about 1961, Thelma and R. E. "Buck" Dalman took their turn at the pie shop. This was when turnover pies got personal for me. Buck had previously been an operator on the Giant Dipper. Thelma had worked a season at the nearby BBQ Pit Restaurant when she learned of the business opportunity next door. They acquired the pie shop and wisely continued the tradition of assembling apple, berry, cherry, peach, and apricot fruit pies – ala mode, too! Savory chicken and beef pies satiated Boardwalk guests as well, and an occasional pizza found its way on the menu. I'm not sure what made turnovers so good. Was it the flaky shell, the real-fruit filling, seeing them being made, or that you could time your arrival to the stand soon after fresh ones came out of the oven? Those pies were uniquely famous as there was nothing quite like them on the Boardwalk at the time.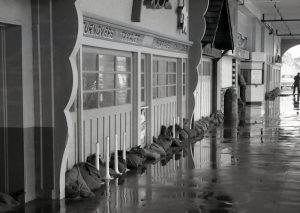 The playful Dalmans humored themselves by gluing a silver half-dollar coin to their center-front takeout counter and connecting it to a mild electrical current. Unsuspecting tourists, looking to make "a fast, half-buck," got a little electrical jolt instead and subsequent snickers from behind the counter. I went for the coin – once – that was enough of a lesson. But I did have fun watching others recoil from the unexpected tingle.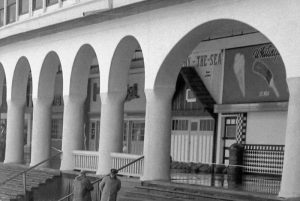 I keenly remember ordering many a hot berry pie just after coming out of the oven. I knew how to time my arrival at the counter to get a fresh one. I also knew when I could marry that pie up with just-made vanilla soft serve ice cream that came out of a machine at my family's black-and-white tiled ice cream store very near the pie shop – because I had prepped the device for the day! Once my job was done, I'd get over to the pie shop, stand at the center take-out counter and order my pastry – leaving the 50¢-piece be! I would then steal away to the ice cream concession and top the pie off with vanilla soft serve dispensed directly from its freezer. As it melted over the warm turnover, I would lovingly consume my concoction, lingering over every bite. What a rich combination – melting vanilla soft serve ice cream atop warm pie! Oh, to have turnovers back again!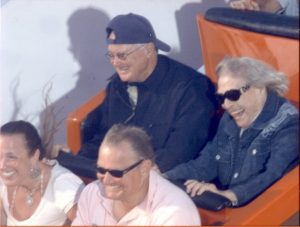 Thelma Dalman went on to become the food service supervisor for the Santa Cruz City school system. Buck became a well-known Santa Cruz City Police Lieutenant. 87-year-old Thelma came back to the Boardwalk in 2009 with her son for a spin on the Giant Dipper. "You are never too old to enjoy the roller coaster," she said. I also recently had the chance to reminisce about the pie shop with Thelma's son Dennis who used to help out at the shop.
In the mid-1960s Charlie and June Booth took a turn at operating the establishment, serving up the same great pies until the stand was converted to another use several years later.
In 1968, the pie space and adjacent BBQ Pit Restaurant were converted to two Marini clothing establishments, Hide Tide and Marini's Bikinis. Those concessions were later renovated as part of the Plunge Building and Cocoanut Grove remodeling project in 1980-81. The Marini family operated in the space until giving up its clothing enterprise in the early 1990s. The Seaside Company then assumed operation of the space and inaugurated its merchandise department, naming the locations Under the Rainbow and Boardwalk Bargains.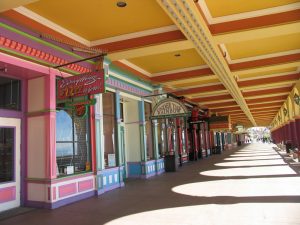 O'Neill's Surf Store joined those establishments then as well.
Today's Millions of Memories store sits where the pie shop used to be. Some Boardwalk old-timers might remember turnover pies when strolling amid its display shelves.
Got any memories of turnover pies you care to share? Is there another old-time Boardwalk treat you miss not having today? Who knows, it might make a comeback!
'till next time –
Ted