It's the most wonderful time of the year, and there are few places more special to celebrate the holidays than the Santa Cruz Beach Boardwalk. The magic of the season paired with clear views of a sparkling Pacific Ocean, plus colorful holiday lights and decor (like a 3-story Christmas tree!) is enough to make you wish the holidays lasted all year long. With so much to do at the 'Walk this winter, I've rounded up my list of must-dos for the season. So without further ado, here is my 2022 Guide to Winter Wonderland at the Boardwalk!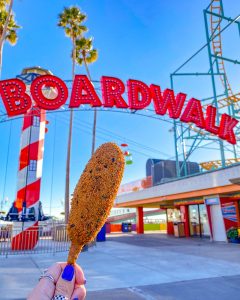 Festive Boardwalk Treats
Be sure to pack your appetite, because scrumptiously seasonal desserts, drinks and snacks are around every corner of Winter Wonderland. At Cruzin' Crêpes you can satisfy your sweet tooth with an Oreo Peppermint Crêpe or Peanut Butter Cup Crêpe, and wash it down with a classic hot chocolate or a blended Peppermint Matcha Blast drink. Across from the Giant Dipper you'll find Cotton Candy Clouds, where you can taste festively flavored ICEE cherry/cherry white and ICEE cherry/green apple cotton candy. Make your way to Barbary Coast to try your pick from an array of delicious drinks — Gingerbread Mocha, Peppermint Abuelita Hot Chocolate and an Eggnog Latte are all on the menu (Just to name a few!). And of course you can't forget to try the new and unique Holidog, AKA a turkey corndog hand dipped in "holiday stuffing" spiced corn batter, paired with a festive cranberry dipping sauce available at Barbary Coast and Surf City Grill.
Winter Wonderland Packages
For the first time ever the Boardwalk is offering two unique Winter Wonderland packages that are sure to make your day merry and bright. Both packages include a $20 MyBoardwalk Card that can be used on just about anything at the Boardwalk, from midway and arcade games to individual rides and attractions. Along with the card, the first package includes a collectible Santa Cruz Beach Boardwalk Winter Wonderland ornament and a digital photo with Santa that you'll take in a vintage Great Dipper car. If you opt for the second package you can choose your favorite style of a Boardwalk Beanie that will keep you warm and cozy all winter. Check out everything Winter Wonderland here.
Holiday Mug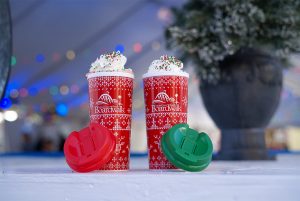 This winter you can purchase an adorable Santa Cruz Beach Boardwalk mug online as an add-on to your Winter Wonderland package or at any Boardwalk-operated food location. You're sure to stay warm with this mug, because every purchase includes a piping hot glass of Ghirardelli Hot Chocolate or the espresso drink of your choice. Themed like a cozy holiday sweater, this holiday mug makes the perfect festive souvenir, keepsake, gift or stocking-stuffer at $14.95 each.
Shop for the Perfect Holiday Gift
If you're anything like me, you're still searching for unique gifts that will make everyone on your list feel special. For the thrill-seekers and fun-lovers in your life, you can't go wrong with a Boardwalk Season Pass that gifts your loved one unlimited rides (with or without blackout dates, you choose), access to exclusive member-only events and a ton of in-park discounts. The best part? Until January 2, 2023 you can save up to $30 when you buy a pass online! Visit the park through 2022 to browse holiday specials on apparel that are sure to make your recipient (and wallet) smile. For a limited time enjoy 15% off Boardwalk branded apparel, 20% off MERGE4 Socks, and buy-three-get-one NHS Classic Dot T-shirts plus more fun savings.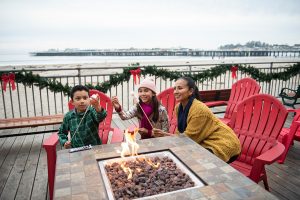 Reservable Ocean-View Fire Pits
Close your eyes and picture this: cozying up around a warm, glowing fire with your closest friends and family all while taking in a beautiful view of the Monterey Bay. Sounds too good to be true, right? Wrong! This year you can reserve exclusive use of a fire pit located beachside on the Boardwalk's Colonnade Deck for your group's next get-together. Complete with Adirondack chairs and picnic tables, fire pits are conveniently located next to arcades, shops, food and restrooms. Plus you can customize your reservation with fun add-ons like hot cocoa, s'mores and MyBoardwalk Cards! Find out how to reserve your Fire Pit.
Boardwalk Racers and Rides
If you're visiting the Boardwalk this winter with family of all ages, you'll want to take a spin on Boardwalk Racers. Located in the Main Plaza, Boardwalk Racers are family-friendly pedal karts where riders can race around a holiday-themed track. Don't forget that limited rides are open every day of Winter Wonderland (check hours here), so you and your squad can have a thrilling good time while enjoying all the other festive goodies at the park.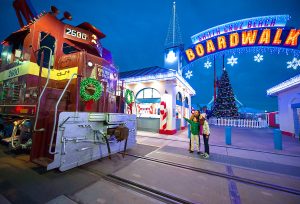 Holiday Lights Train
Choo choo! Climb aboard the Holiday Lights Train for a ride on a decorated vintage excursion car through the streets of Santa Cruz. Sing carols, sip on cider and meet Santa Claus, then continue the merriment with Boardwalk arcades and attractions using your MyBoardwalk Card, included with your fare. The Holiday Lights Train is available on select dates through the month of December, and all rides start at the Boardwalk. Reserve your tickets today.
'till next time –
Emily I.