With our latest post we continue to honor our concessionaire families, this time commemorating Whiting's Foods who are celebrating 70 years! To tell the story of this multi-generational family business we have a guest author, Jenny Whiting Gump. Jenny Whiting Gump is a 5th generation working at Whiting's Foods. As the Director of Marketing, she leads communication efforts to promote fun foods and job opportunities at Whiting's Foods. We are happy to showcase her storytelling with this amazing history of the family business. Take it away, Jenny!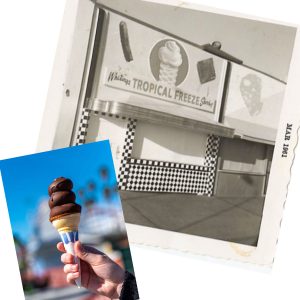 The sights, sounds and tastes of the Boardwalk leave lasting impressions on every visitor. However, for my family and I, the best views have always been from behind the counter.
It is there, serving ice cream cone after ice cream cone, that we have gained great perspective on both the joy we can bring to guests and the pride we feel to be a part of what makes the Boardwalk such a special place. And the fact that we've been doing it for over seven decades as a family-run business? Well, that's the cherry on top.
As we celebrate 70 years in business, I am honored to share a little more about our family's history as a concessionaire and invite you to celebrate this milestone with us.
A Golden Opportunity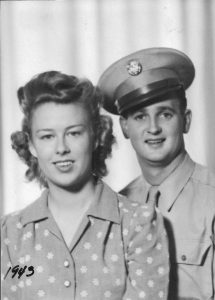 In the 1950s, after serving in World War II, my grandfather, Ted Whiting Jr., returned home and took a job delivering milk for Meadow Gold Dairies. Little did he know that his route would lead him to a golden opportunity at the Santa Cruz Beach Boardwalk.
He soon learned that the Bright Spot restaurant (located near the Speed Bumps where the Pizza Now concession stands today) was up for sale. With the support from his father, optometrist Les Whiting, Ted's future started coming into focus when he made a pivotal decision to take over the concession. A year later, Joe Lane's frozen custard business was acquired by Ted, which included three existing ice cream locations, and sealed our family's fate as a lifelong concessionaire on the Boardwalk.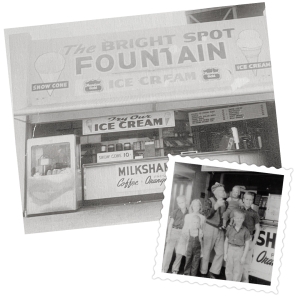 The business was a family affair from the start. Every one from Les' father-in-law to the then kids in the family, like my aunts and uncles, staffed Bright Spot in the early years. They love to tell the stories about their great grandfather, affectionately referred to as Pop, who kept a spittoon dangerously close to the popcorn popper so he could spit out his chewing tobacco as he worked. Talk about a mix-up you wouldn't want!
Times sure have changed since then, but the family aspect of the business hasn't. For a short period, Ted retained his dairy delivery route, while his wife Esther helped operate the concession stands with other family members. Little by little, they started managing additional locations along the Boardwalk as they became available. Today we operate over 25 of the food concessions on the Boardwalk, selling memorable indulgences from the classics like dipped ice cream cones and frozen bananas to guest favorites like funnel cakes, pizza, Dippin' Dots and ICEEs. Back in the day, it was a running joke that my grandparents' staffing strategy was to have eight children. However, as decades passed and the operations expanded at the same rate as the extended family grew, we now appreciate their clever "strategy" even more.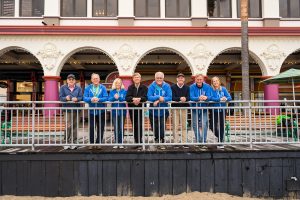 A few of original 8 siblings have held leadership roles at the Boardwalk over the years. The oldest of the siblings, Ted Whiting III, paved the way for his siblings at the family business before joining the Seaside Company in 1979. Uncle Ted's stories have achieved legendary status, including the time he served Walt Disney a hamburger in 1963.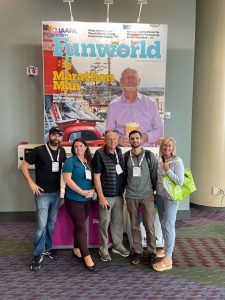 Ron Whiting, Ken Whiting, and Margie Whiting Sisk have been at the helm of Whiting's Foods for years, with Ken and Margie still leading our organization. They all have a passion for the park and the industry as whole that is unparalleled. In 2022 Ken, my dad, was named the Chairman of the Board for the International Association of Amusement Parks and Attractions giving him the honor and responsibility to represent Whiting's Foods and the Boardwalk on a global level. If my Grandpa Ted were alive today, he might be shaking his head in disbelief that our humble beginnings led to international recognition, but we know he'd be proud.
Keeping The Family Spirit Alive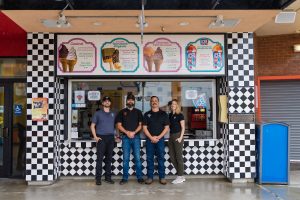 The Boardwalk was a training ground and a rite of passage for my 20+ cousins and I, as everyone was expected to spend their formative teen years working on the 'Walk. And now, as adults, I consider myself lucky to have a few of those cousins as my full-time coworkers – including Jeff Whiting (VP/General Manager) and Dan and Anthony Whiting (Operation Managers).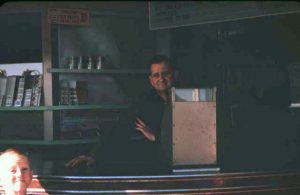 Over the years, our grandpa Ted grew the business with moxie and a lot of hard work. And while he is no longer with us today, he passed down many valuable traits through the generations that have become the backbone for our company. He took an immense amount of pride in where he worked and took the role of selling fun foods very seriously. Throughout his career, he did everything from working the counters to maintenance and every aspect of the business in between. And speaking of counters, he liked them pristine. His mantra of "if there is time to lean, there is time to clean" still echoes in our ears. It's why every member of our crew begins in counter sales, even the family, and we all understand the magic of a little elbow grease.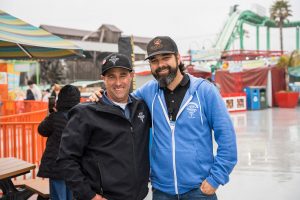 Jeff says, "Our predecessors have showed us that developing a strong team, who are all on the same page, is the recipe for success." Our not-so-secret ingredient to our business is the people on our team. Without question, our greatest pride comes from our outstanding crew. And when it comes to our management team, even if they're not related by blood, they are as close as family.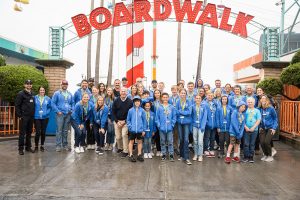 In terms of the future crew members, Jeff adds that he's "excited to see the future grow with the next generation. Seeing what they can bring, adding to the previous generation's efforts." We recently hosted our Annual Family Day, where members of the extended Whiting family are invited to come and work a day with us. It's a multi-generational gathering, and one of the best parts is seeing the future generation of employees learning from those that came before them. As for my own kids, they aren't quite tall enough to see over the counter so they spend their days happily riding Bulgy the Whale until they can become part of the growing 6th generation of our family working at the Boardwalk.
Honoring The Past While Looking Towards The Future
A hallmark of ours for the last seven decades has been consistently providing indulgent fun foods that are part of the entertainment experience at the Santa Cruz Beach Boardwalk, which gives us the opportunity to regularly tinker and innovate. This year, we are offering many new and exciting food items such as injectable churro bites and craft milkshakes. And, we will be commemorating the occasion of our 70th year with a Celebration Ice Cream to be debuted this summer.
In addition to creating new menu items, we have also recently brought back one of our original menu items, the Sandae (not sundae!). This cherished frozen novelty consists of chocolate malt ice cream between two graham crackers, dipped in chocolate, and the name comes from the unique topping – a dusting of crushed almonds that resembles sand. We feel lucky to have worked near the beach for so long and so it is only fitting to highlight a product that pays homage to this amazing beachside amusement park that we call home.
We hope our legacy is marked by the memories we help create at the Boardwalk and the positive impact we have had on those around us. We are infinitely grateful to be a family-owned concessionaire on the Boardwalk for all these years, and we sure are in great company! We're walking in the footsteps of many other multi-generational businesses who have paved the way before us: Twisselsman's, Marini's and Santa Cruz Seaside Company.
So, from our beginnings at Bright Spot, to a bright future ahead, thank you all for celebrating our 70-year anniversary with us. It truly is an honor.
The Boardwalk would not be what it is without our Concessionaires, many of whom have spent decades building a family business here. The dedication and hard-work makes a huge impact on the park and the guest experience so generations of people can create memories that last a lifetime. Congratulations to Whiting's Foods on 70-years! – Omid Aminifard, Vice President / General Manager