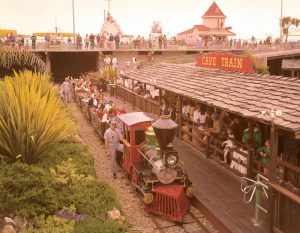 How did our iconic amusement park become home to its famous cave people? Let's go back nearly sixty years and discover the origin of our one-of-a-kind Cave Train Ride.
In 1956, Seaside Company President Laurence Canfield proposed building out the east end of the Boardwalk between the Giant Dipper edifice, the San Lorenzo River, and the  railroad trestle. By March 1959, planning called for an 825-foot long concrete wall of sheet piles to surround the area. This created  a 2-acre surface deck and similarly sized basement which afforded more space for ride expansion, maintenance shops, storage, and more public restrooms.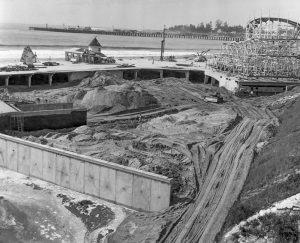 Disneyland burst into our national consciousness in 1955.  The new park threw the amusement industry for a loop. Walt Disney had defied industry naysayers who had predicted his dream's doom. The public delighted in Disney's immersive experience, giving rise to a new "theme park" phenomenon. Guests began to expect more from traditional parks. This reality coupled with a lack of reinvestment in many older parks, led to their gradual demise. None of this was lost on Boardwalk management! With more ride space topside and in the basement, in the late 1950s the Boardwalk aimed to offer ride experiences of the genre Disney was popularizing.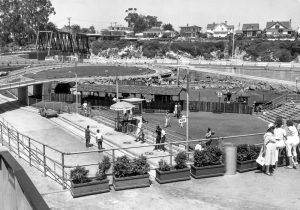 In July 1959, the Seaside Company's board approved plans for two new and unique rides. One was a self-propelled car ride similar to Disneyland's "Autopia." The other was a "mine train" ride attraction in the Disney  style. The Boardwalk contracted with Arrow Development Company of Mountain View, CA to engineer both rides. In this blog, I am only focusing on the train ride.
Arrow Development was not a run-of-the-mill amusement ride manufacturer. Walt Disney had tapped the company to build Disneyland's unique rides in advance of his park's opening in 1955. On a smaller scale, Arrow had previously sold one of its kiddie boat rides to our park and had rehabbed the Giant Dipper trains.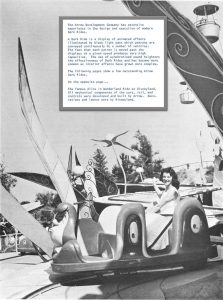 Disneyland featured its passenger trains in very prominent and innovative ways, and it  re-imagined dark rides into family attractions. With a train ride on tap  and new basement space, the last item the Boardwalk needed was a theme for its new mystery ride.
I can only speculate that Arrow Development brought their Disney experience to bear on  our ride because our archives are silent on this point. Arrow built the engines and cars for the two trains we still use today. They also created a few gags.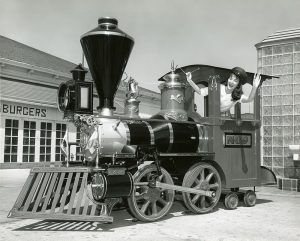 Arrow brought artistic skill to the design team. Seaside Company leaders, President Laurence Canfield, General Manager Tom Cutting and Maintenance Superintendent Bill Fravel actively  engaged in design development. A young Charles Canfield (who later became company president) also brainstormed with his dad.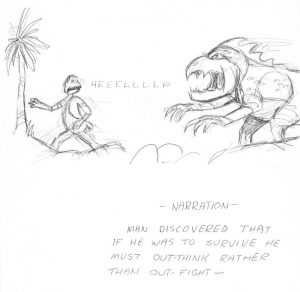 Boardwalk archives do  have two undated artist storyline renderings for the train ride. One depicts a land inhabited by imposing and attacking dinosaurs—11 of them, some with limited movement, amid displays of volcanoes, boiling mud pots and ruins of ancient Atlantis. Primitive plants, ferns, and horsetails inhabited a jungle-like environment. A few war-like cavemen populate the primitive landscape. The second interpretation proposed the ride simply tell the story of cavemen, with recorded narration illuminating the journey. Humor would lie in what the cavemen were doing.
This latter idea took root, and our Cave Train came to life.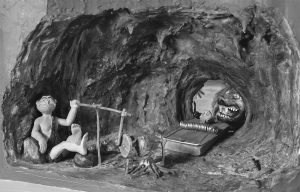 The rapid acclaim of "The Flintstone's" made cave people instantly popular. The top-rated family cartoon TV series appeared on the national airwaves in September 1960. American families enjoyed the weekly escapades of Fred and Wilma Flintstone and Barney and Betty Rubble.  These characters made cave people  entertaining, notably when juxtaposed opposite today's modern conveniences. The Boardwalk acquired  roughly 50 cave people to occupy the early ride. After arrival, staff cut and bent their arms, elbows, legs, and knees into different postures.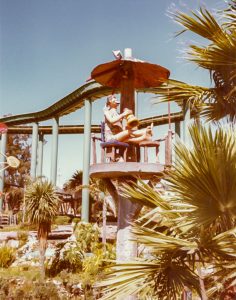 To draw attention to a ride that was mostly unseen by Boardwalk guests, we positioned several cave people outside the ride. Two became perennial riders on the Boardwalk's Sky Glider, inviting the curiosity of  passers-by. Another perched in a tree above the Cave Train station at eye level with the Boardwalk. He served as a shill and hawked the ride to prospective passengers. "Yoo-hoo!," he would say, "Yes, I'm talking to you-no don't look over there — I'm up here in the tree. You're wondering what to do next, aren't you? Well, I suggest that you – c'mon, hey! You girls and boys walking by – I'm talking to you, too! Yes, right now, as I was saying, for unequaled excitement, laughs and dozens of silly happenings, step down a few stairs and climb on the Cave Train ride. Jog along through the mysterious underground where there's a surprise around every turn. There's a cave train leaving in just a moment. Go right down these stairs to my left for the big, the exciting, the authentic Cave Train Ride!"
The "Cave Train to the Lost World" debuted in June 1961. From the beginning, its cave characters—both topside and in the underground – curiously charmed Boardwalk guests.
I had huge expectations for our ride, since my grandmother had taken me to Disneyland in 1956. Our attraction was not as sophisticated as its Disney counterparts. For the Boardwalk, offering a ride experience that Disney inaugurated and our guests expected, was a tremendous stride forward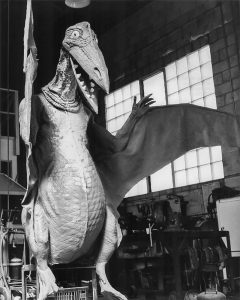 Beach historian Skip Littlefield documented a trip to the Lost World that first summer. His account ignited my recollections of that early ride, where 50¢ bought a ticket to the train waiting at its decorative wooden depot. The shrill of its whistle and clang of its bell signaled the Cave Train's departure and entrance into the Lost World and its 2,200-foot journey. Once inside the blackened tunnel, the train entered a 36-ft long revolving cylinder. Its eerie music and flickering lights conveyed a bewildering sense of traveling back in time. As the train rounded to the right, the sounds of eight moving stalagmites warned passengers of an active earthquake region. Safely through that area, the next scene of eggs, 4-feet in diameter, hinted that dinosaurs still roamed  the Boardwalk's underworld.
Caverns and grottoes, illuminated in varied hues of blue, red and yellow lighting, marked deeper penetration into the cave. There were more stalagmites and stalactites. Colored bubbling mud pots appeared, but the visible air tubes entering those pots detracted from their mystery for me. Immense overhead bats flew toward the train. Their 5-foot wingspread oscillated, producing a flying illusion.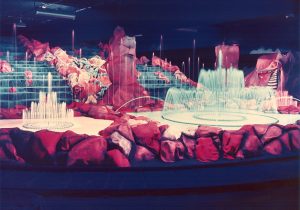 As the train proceeded amid rock walls and crevices, I remember  many dark areas in the ride.   When an enormous waterfall appeared, the site seemed overwhelming as the train passed by and rounded its far turn. Littlefield describes it as "the most beautiful feature of the Lost World." The scene contained four separate 11-foot high, colored waterfalls flowing into one pool where three fountains jetted colored water into the air. One grand cathedral fountain glimmered from the striking lighting effect that illumined the 24-foot wide space.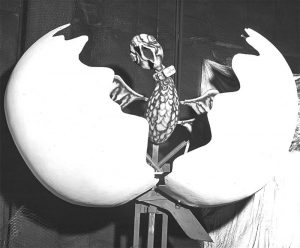 Once past the waterfall sensation, the ride evoked passenger chuckles. Snoring sounds came from a caveman deep in slumber. Then a  rocking dragon's head blew air breaths over the passengers. A lazy dinosaur blinked his eyes and moved his tail, posing little threat to riders. A charging dinosaur with his four lumbering legs came at the train. This fanciful 5-foot high, 9-foot long beast appeared to greet us and not attack us. Cave people showed off their waterwheel-powered laundromat. Then passengers noticed a 4-winged Goofus Bird, shrieking as it hatched from one of those earlier large eggs.
The playful antics suddenly took a somber turn. The train slowed as it inched by a caveman aiming and adjusting his primitive mallet to strike a box stamped "dynamite." Other similarly marked boxes surrounded him. On queue. the gliding train  triggered a detonation.   Strobe lighting and deafening sound effects startled on-lookers. As the explosion rumbled, the train picked up speed to exit the Lost World and avoid peril. I recall the dynamite scene's  movement, lighting, and sound were not always perfectly synchronized, causing flashing before thundering or thundering without flashing.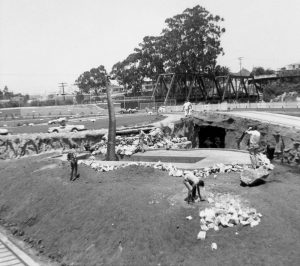 Once outside the cavern, the train rounded the ridge where "Dangerous Dan" the dinosaur reared his 18-foot long head and neck every five minutes from beneath his lagoon. He moaned while twisting and assessing his audience to provoke more interest in the ride.  He accomplished his purpose causing parents  and their children to linger and wait for his next appearance.
Once back in the depot, passengers disembarked the train, and another compliment of wonder-seekers would board. 75,000 guests journeyed to the Lost World in just the first month.
The next year, and over the next half-dozen years, Boardwalk staff added more props, scenes, and cave people to the ride. The dark spaces were filled in. A caveman with his spear held a Kodiak bear at bay.  We added more waterfall scenes, and the original one shrunk a tad to make room for the Stone Room of fun-loving cave people, dancing to the 1930s tune "Bei Mir Bist Du Schoen." The music loudly enveloped the space as the train rounded the stage and began its station-ward trek.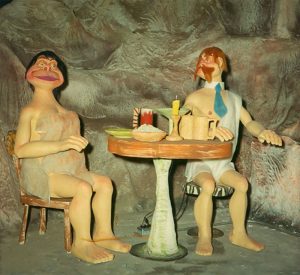 Then snoring feet appeared near a wedding chapel scene. A caveman enticed a bear into his large mouse-like trap. Cave people attempted to get a stalled jalopy started again.  We installed the world's first waterbed. A scene portraying a caveman cheating his chums at a card game. Over time, other disjointed scenes appeared to fill in the underworld's nooks and crannies. Only recently did we learn that Ken Forsse, the creator of the 1980s Teddy Ruxpin toy and TV sensation, fabricated some of the cave characters and scenes in the mid-1960s while working as a Disney Imagineer.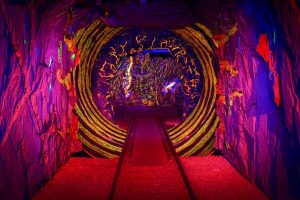 We took the ride out of service in 1998 for maintenance repairs in the basement it occupied. The ride re-emerged as Cave Train 2000 with even more cave inhabitants amid a more coherent, Boardwalk-based story-line. An earlier blog recounts how the public's outcry prevented the Boardwalk from jettisoning the cave people altogether. Click HERE to read that story.
What memories can you share of the Cave Train attraction when it debuted in the 1960s? Do you remember your first ride into the Lost World?
'till next time –
Ted