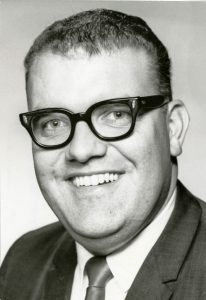 Throughout the Boardwalk's storied history, the names of individual leaders routinely surface in our archival records. Names like Swanton, Littlefield, Canfield (Laurence and Charles) prominently appear. However, other lesser-known people also played very significant roles and uniquely contributed to the Boardwalk's success in their day. From time-to-time, I like to highlight a few.
The 1980s began tumultuously for the Boardwalk. Forced by the need to repair well-worn facilities and fueled by the desire to expand the yearly business cycle, Seaside Company management undertook a massive renovation project. It entailed demolishing and rebuilding the historic plunge building's beach-side face. This created a restored colonnade promenade with new restaurants, gift and specialty shops, and skill games. However, the pinnacle of this enormous undertaking involved upgrading the Cocoanut Grove. That included adding a new, modern glass-ceiling Sun Room, a fully equipped catering kitchen, a new cocktail lounge, and a basement to support it all.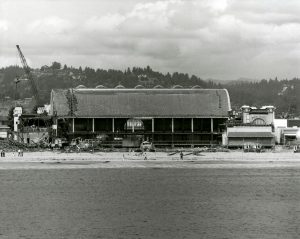 The demanding schedule between September 1980 and June 1981, as well as skyrocketing double-digit inflation and bank interest rates, forced excessive cost overruns. Few knew the stress and strain on the Canfield family at the company's helm during this period. The completed venture became the capstone of the 1981 season and it has been a boon to the Boardwalk ever since.
Into this challenging arena came Ed Hutton. In early 1981, he became the Boardwalk's General Manager. He arrived fresh from overseeing the closing of Frontier Village, a popular south San Jose amusement park that had been sacrificed to higher corporate priorities. Ed began working alongside Seaside Company Vice President (at that time) Charles Canfield to chart the company's foray into the young decade.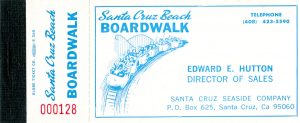 Hutton was no stranger to the Boardwalk. First hired in 1968 as promotions and special events manager, he had launched a vigorous program to stimulate large corporate recreational outings to the beach. Then as operations manager, he began to overlay Boardwalk practices with leading industry trends. He was even a Boardwalk concessionaire for a short time. However, in 1972, he left to pursue other amusement management ventures, finally returning to San Jose to run and ultimately close Frontier Village.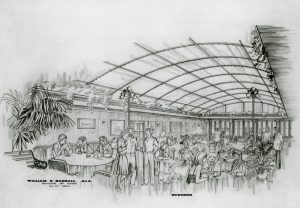 With an admiration for P.T. Barnum in his soul and a fondness for the Boardwalk's advertising legacy, Ed's promotion and marketing talent fit hand-in-glove with our amusement park's need to aggressively promote itself to pay for the newly expanded facilities. He liked to say that he got to "put the frosting on the cake" of these new improvements.
Ed's professional love was marketing and promotion. Revamping the Boardwalk's marketing department became his first priority. Being well-connected within the Northern California tourism industry, he recruited experienced marketing talent to our beachfront enterprise. New entertainment bookings were added to compliment already scheduled activity in the Cocoanut Grove and the Boardwalk. He coordinated the integration of several new food concessions and restaurants the Seaside Company began operating. Our personnel department was put under the leadership of an experienced amusement park manager.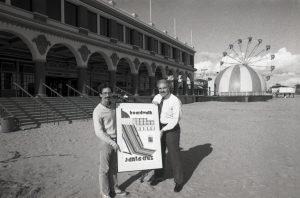 The Boardwalk's 75th Anniversary in 1982 gave Ed the perfect theme with which to jump-start promotion of the 'Walk as an iconic destination. Marq Lipton, our current VP of Marketing and Sales, was hired to oversee that year's program and has led our marketing and promotional efforts ever since. 1907 Nights, a discount promotion to build business on the slowest summer weeknight, took off with a bang. Its popularity necessitated its expansion to two nights. The phenomenon continues to this day as summer's Retro Nights.
With a penchant for change and a passion for challenging the status quo, Ed set goals to build up the park's slow business periods. The Boardwalk's Annual Clam Chowder Festival began in late February 1982, jointly supported by the city's Park and Rec Department. Its popularity still draws chowder-lovers and is now a two-day event. The fall Brussels Sprout Festival was our response to garlic's reputation in Gilroy. It ran for a dozen years before succumbing to the public's lack of enthusiasm.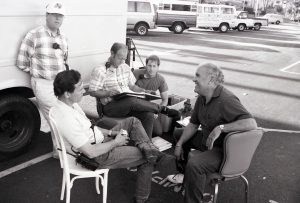 An increased advertising budget allowed the Boardwalk to enjoy a more dominant radio and TV presence. In turn, media partners became eager to co-promote all kinds of new events. Promotions like Sand Castle Contests, Crawdad Crawls, Sun Tan Contests, and Tug of Wars came and went. Other joint promotions, like Beach Street Revival and Hot Rods at the Beach, were tried, the latter is still with us. Existing group activities like corporate beach parties and high school grad nights were strengthened.
Having negotiated a new promotional package with Pepsi Cola mid-decade, our remaining summer weekday nights were energized with very successful promotions that continue today. These included super-discounted Pepsi Nights (now Coca-Cola Nights) on Wednesday and Thursday evenings and the consistently popular Free Friday Night Bands on the Beach concerts.
Whether it was Ed or his creative marketing staff that initiated new activity, in the end, all benefited from Ed's instincts.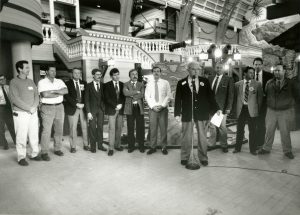 When Hutton arrived, the former Plunge building housed a miniature golf course. Early in his tenure, he, along with Seaside Company President Charles Canfield, began brainstorming and concept planning for more activity in that underutilized space. Ed kept concept planning alive. When the 1989 Loma Prieta Earthquake severely damaged that edifice, Charles Canfield then gave the go-ahead to make Ed's dream a reality. We rapidly got underway with the construction of our Neptune's Kingdom Family Fun Center. Today's guests continue to enjoy its miniature golf, small arcade, a game deck experience, and expanded restaurant dining.
In collaboration with Seaside Company management, Ed oversaw the installation of new rides at the Boardwalk. The Pirate Ship, Great Auto Race, and our Hurricane coaster joined the Boardwalk's ride lineup. The Seaside Company's maintenance talent transformed a tired Snowball ride he acquired from a defunct Santa's Village Amusement Park into our shiny, whirling Spin Out ride. Even our Haunted Castle ride got freshened up using in-house talent.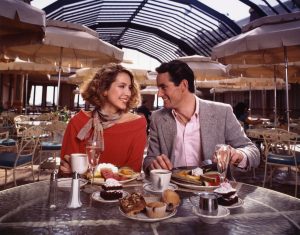 In the newly minted Cocoanut Grove, a bourgeoning Big Band series brought back musical stalwarts like Count Basie and Tex Beneke to the ballroom's stage. More public concerts featured the likes of Etta James, George Winston, and Maynard Ferguson. A summer series of Joe Sharino Friday Night Dance parties in the glass-domed Sun Room were popular those years. A Sunday Brunch event drew record numbers of guests to this unique weekly seaside experience until its popularity waned.
During Ed's watch, the Boardwalk's historic 1911 Looff Carousel and 1924 Giant Dipper Roller Coaster were designated prestigious National Historic Landmarks in 1987. In 1990, the Boardwalk itself became an official California State Historical Landmark.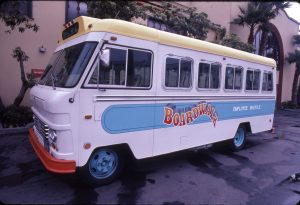 Ed consistently advocated improving our guests' overall Boardwalk and Cocoanut Grove experience. Always clean restrooms, freshly painted buildings, amusement rides maintained for full capacity ridership, rapid graffiti removal, and an increased security presence were consistently on his radar. The Boardwalk's first employee peak-weekend shuttle program began to make way for increased guest parking. On those days, staff parking moved to a remote area in our city's downtown, the same as today. He strongly advocated for a city-wide summer visitor shuttle in response to limited Boardwalk weekend parking capacity. He worked with crucial city staff people to initiate inbound and outbound traffic improvements for beach area visitors.
To stimulate employee morale, incentive programs for our seasonal staff bore his stamp. An employee council allowed seasonal staff to contribute their own ideas about making the Boardwalk a better place to work. An international work and travel program commenced and brought a worldwide flavor to the Boardwalk's seasonal staffing mix. Full-time staff enjoyed improved health benefits and retirement programs resulting, in part, from his advocacy.
Ed intended to spend a third of his time in his office, another third in our amusement park, and the final third in our community.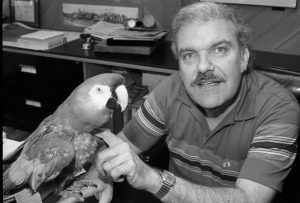 His office was as eclectic as the company was becoming. His Mickey Mouse telephone, pet silver-crested cockatoo, "Baby," who unpredictably shrieked her opinion on matters of the moment, and samples from his collection of wristwatches, among other things, revealed a man who enjoyed what he was doing. None of these, however, kept conversations from taking a serious tone when warranted.
Ed frequently strolled the Boardwalk to observe our guest's experience while always seeking to improve it. Special events would usually find him in attendance for the same reasons. He often participated in welcoming luncheons for new residents to the company's Casa Del Rey Retirement Hotel and joined in shuffleboard contests with those guests.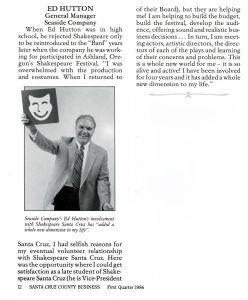 Ed championed his staff's involvement within the Santa Cruz community. He became active in local tourism promotion circles soon after his arrival. By 1987, he chaired the county's newly reformed Visitors' Council, established under the banner of the Santa Cruz Chamber of Commerce. We all worked to improve the Boardwalk's image amid local business and non- profit organizations. Ed personally served on the boards of the Salvation Army and Big Brothers/Big Sisters. UCSC's Shakespeare Santa Cruz enjoyed his board presence as well as the Long Marine Lab's Advisory Board. In 1988, he traveled as part of a delegation of local citizens to visit Santa Cruz's official sister city in Alushta, Russia.
Ed decided to move on to other business pursuits in 1994. On February 17th of that year, he endured a light-hearted "Going Away Party & Roast" in the Cocoanut Grove's Sun Room. Local and industry friends, associates, and dignitaries celebrated the launch of Ed's next phase of life.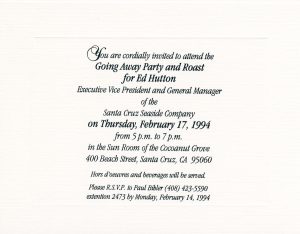 When Ed left the Boardwalk for the last time, he was the Executive Vice President of a company much more multi-faceted than when he began. The amusement park bears his mark in many areas to this day. He also left having found his new wife, Susan, a fellow employee he met at the Boardwalk a few years earlier.
In a 2005 interview, reflecting on the Boardwalk's upcoming Centennial Celebration, Ed summarized his tenure by stating, "I'd much rather be selling something people want, like fun and relaxation, than something people need but don't enjoy. It's much more fun getting people on the Giant Dipper than telling them it will take $940 to fix their car."
Ed's promotion and publicity expertise, his engaging personality, as well as his constant eye on improving guest experience, uniquely benefited the Santa Cruz Beach Boardwalk, at just the right time, 30-plus years ago.
If you have any memories of Ed to share, do pass them along.
-till next time,
Ted
[email protected]